Five luxurious Arronbrook models on display at Annual Show
ARRONBROOK will be proud to display five unique and luxurious holiday homes when we host our Annual Show at Yorkshire's biggest static caravan extravaganza this month.
Having enjoyed a successful manufacturing year so far, attention has now turned to 2020 and our attendance at the hugely-popular Cottingham Parks Lodge and Caravan Show from September 3rd to 5th (trade days) and 7th to 8th (public).
Open to members of the public and trade customers, the Cottingham Parks Golf and Country Club on Woodhill Way will again be expecting to welcome more than 5,000 visitors during the week-long event.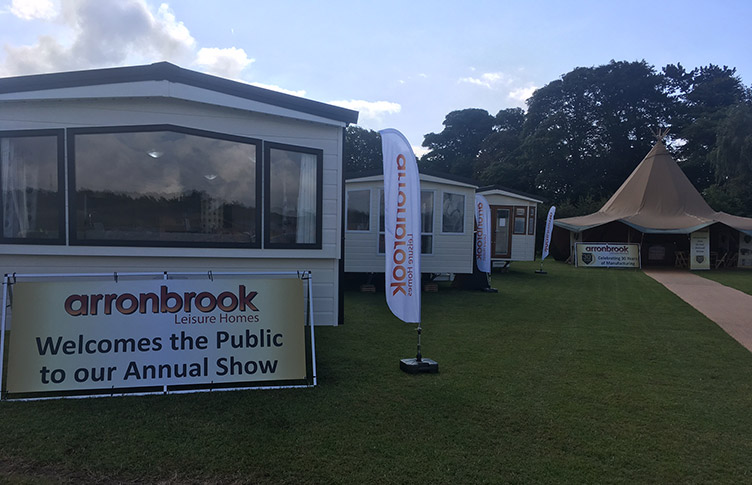 With only a few weeks to go until the showpiece, our highly-skilled team are already working hard to put the finishing touches to our 2020 range.
And the models we're planning to showcase are:
Topaz
Clipper
Opale
Scenic
Eclipse
Arronbrook is proud to be a family-owned company which has designed and manufactured bespoke quality holiday homes since 1987.
Historically, our Annual Show has generated orders in excess of £250,000 as it allows our trade partners to see the close attention to detail which goes into every one of our products.
Each home features all the latest luxury bathroom and kitchen appliances and is finished to the highest possible standard – featuring vaulted ceilings and large picture windows.
Whilst the UK holiday market accounts for 40 per cent of our annual production capacity, demand is continuing to grow from holiday parks in Europe.
Director Paul Coombs has already agreed to meet with an array of existing UK trade partners, as well as representatives from holiday parks from Holland, Belgium and Norway.
Looking ahead to the event, Paul said: "This prestigious show is one of the highlights of the year for our industry and we're delighted to again be a key partner in it.
"The majority of customers who come want to see the latest trends and innovations - and there's always a real buzz about the place.
"We've chosen to display five models this year so that people can get a feel for our entire range - which has models designed to cater for families, caravan park owners and our trade partners.
"Hopefully, we'll take plenty of orders and set ourselves up for another positive year."